Daily FAMILY VBS 2022 Videos
August 13, 2022 9:00am
Address: Redeemer Lutheran Church, 3606 S Schafer Road, Spokane, WA US 99206
Contact: Erica BartonErica Barton
Welcome to Redeemer's Family Vacation Bible School 2022
Each day we invite you to join us ONLINE for DAILY Music, Devotions, and information about how you can help us share Jesus' LOVE in the local community. We'll post the "video of the day" right HERE at 9:00 a.m. July 11-15.
DAY FIVE: AMAZING

DAY FOUR: MUDDY
DAY THREE: SMELLY
DAY TWO: SWEATY
DAY ONE: FREAKY
A reminder that we also invite your WHOLE family to join us ON CAMPUS for food, group games, family crafts, and music! Following are the dates and times for our on campus FUN:
Tuesday, July 12 @ 5:30-7:30 p.m.

Wednesday, July 13 @ 5:30-7:30 p.m.

Thursday, July 14 @ 5:30-7:30 p.m.
During Family VBS you will learn about Family Promise of Spokane.
In your VBS Tote, you'll find information about the "Welcome Home Kits" we'll be making. In addition, we've set the goal to END homelessness for one family for a year. The cost to support one family for a year is $3,250. Together, we know we can make this happen. Please scan the QR Code below to make a donation.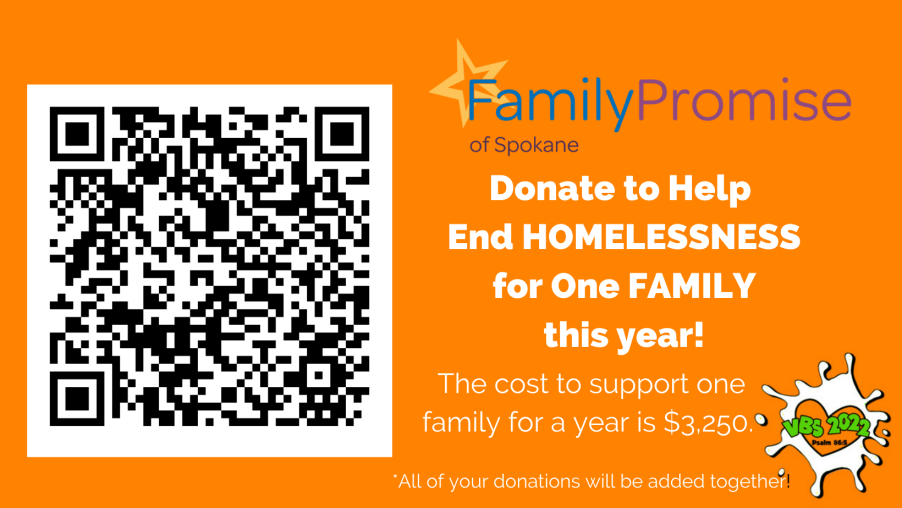 Enjoy Our Family VBS Highlights Video